Filter by Category
Children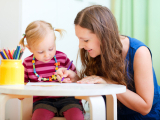 Babysitter Certification
with Mia Comis, NREMT, AHA Instructor

Apr 6, 2019 at 10:30 am

, runs for 1 week
For youth ages 12 and up. Become an informed and valuable childcare provider! This course includes the BLAST program by the American Academy of Pediatrics. Learn about developmental stages, bottle-feeding, diaper changing, safety, and age appropriate activities. Includes American Heart Association Heartsaver Pediatric First Aid, CPR and AED use for the adult child and infant. First aid topics include prevention, recognition and treatment for medical emergencies and injuries. Registration: $75. YOU MUST REGISTER BY MARCH 21ST
Participants should bring a bag lunch and drinks in spillproof containers.
Boating Safety
with IFW Instructor

Apr 20, 2019 at 9 am
Learn proper boating safety and operation, including handling, equipment, and trailering. Laws, environmental ethics, emergencies and cold-water survival will also be covered. Meets requirements for operation of personal watercraft by 16 and 17-year-olds. Under 16 must have an adult attend.
Staying Home Alone
with Judy Emch

Apr 6, 2019 at 1 pm
Designed by an experienced educator and Red Cross Trainer, this class teaches 8-11 year olds the fundamentals of staying home alone for short periods of time. Through fun games and activities, students learn information they need to know, such as parent cell phone numbers, which neighbors can be called on, when to call 911, safe and unsafe "home alone" activities, and what to do if there is a fire or other emergency. Includes a take home booklet and certificate of completion.