Filter by Category
Health & Wellness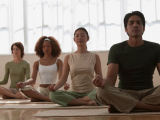 Yoga
with Robyn Born
We've all heard about the benefits of yoga for blood pressure, flexibility, muscle tone and strength, as well as improved respiration and energy.  This class uses a sequence of poses held for longer breath cycles to refine the posture of the body, mind and heart. All levels are welcome. Poses can be modified for different levels of fitness and experience. Please bring a mat, water and a blanket. Mondays 6:15-7:30pm. Walk-ins are welcome at $8 per class.
Tai Chi
with Chris O'Donnell
Tai Chi is a form of exercise that combines breathing techniques and slow, deliberate movements intended to improve health and muscle tone.  Practicing the gentle movements of Tai Chi can calm the mind, strengthen the body, and improve balance.  Let Chris be your guide as you work alongside her toward a more peaceful and flexible self.  Chris has been an active participant in Tai Chi for over 12 years. Tuesdays 3:45pm – 4:45pm.  Registration:  $60. For ALL ages and fitness levels – but a favorite with our Seniors!  Walk-ins are welcome at $5 per class.