Filter by Category
Exercise & Outdoor Fun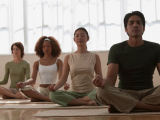 Yoga
with Robyn Born
We've all heard about the benefits of yoga for blood pressure, flexibility, muscle tone and strength, as well as improved respiration and energy.  This class uses a sequence of poses held for longer breath cycles to refine the posture of the body, mind and heart. All levels are welcome. Poses can be modified for different levels of fitness and experience. Please bring a mat, water and a blanket. Mondays 6:15-7:30pm. Walk-ins are welcome at $8 per class.
Tai Chi
with Chris O'Donnell
Tai Chi is a form of exercise that combines breathing techniques and slow, deliberate movements intended to improve health and muscle tone.  Practicing the gentle movements of Tai Chi can calm the mind, strengthen the body, and improve balance.  Let Chris be your guide as you work alongside her toward a more peaceful and flexible self.  Chris has been an active participant in Tai Chi for over 12 years. Tuesdays 3:45pm – 4:45pm.  Registration:  $60. For ALL ages and fitness levels – but a favorite with our Seniors!  Walk-ins are welcome at $5 per class.
Snowmobile Safety
with IFW Instructor

Dec 7, 2019 at 8 am
Learn how to properly operate and maintain a snowmobile. We will cover laws, personal safety, use of maps, and rider's responsibilities pertaining to the environment, landowners and ethics.  Please bring your owner's manual if possible.  You must attend 100% of class to receive your certificate.  For ages 10 and up. An adult must stay with youth 16 and under. All students 17 and younger must have parental consent which is obtained by signature on the registration card at the start of class.  Saturday, December 7th from 8am-2pm.  Please bring snacks, drinks in spillproof containers, and lunch as there will be no formal lunch break.  Registration: $12.