Filter by Category
Exercise & Outdoor Fun
ZUMBA
with Erin Hamlin

Jan 23, 2023 at 6 pm

, runs for 10 weeks
The class that started the dance-fitness revolution and changed the way we look at a "workout" forever. It's fun, effective and best of all? Made for everyone! It is a dance fitness cardio class with roots in latin rhythms. Wear sneakers and comfortable clothes, bring water and a towel. Erin has been teaching Zumba since 2014, with hundreds of students across Maine and beyond! You can learn more about her and her classes here: https://www.zumba.com/en-US/ profile/erin-hamlin/1091680. Registration: $75.  REGISTER EARLY TO ENSURE THE CLASS WILL RUN!                                                 
(Photo Credit:  Jeff Kloft)
Will run
Tai Chi
with Chris O'Donnell

Jan 26, 2023 at 3:45 pm

, runs for 8 weeks
Tai Chi is a form of exercise that combines breathing techniques and slow, deliberate movements intended to improve health and muscle tone.  Practicing the gentle movements of Tai Chi can calm the mind, strengthen the body, and improve balance.  Let Chris be your guide as you work alongside her toward a more peaceful and flexible self.  Chris has been an active participant in Tai Chi for 15 years. Registration:  $80. For ALL ages and fitness levels – but a favorite with our Seniors!  Walk-ins are welcome at $10 per class.  REGISTER EARLY TO ENSURE CLASS WILL RUN!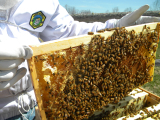 Beekeeping
with Mary Jane Dillingham

Feb 15, 2023 at 6 pm

, runs for 1 week
We've heard a lot about threats to the bee population in recent years – and these pollinators are of great importance to the food chain. Are you interested in learning more about raising Honey Bees? Mary Jane, biologist and owner of MisBeeHaven Farm in Poland, will explain why bees are important, the benefits of raising them, the expense involved and how to access the best local resources.  Registration: $10.