Filter by Subcategory
Literacy
Adult Basic Education (ABE)
with Terryl Jensen

Jan 3, 2018
Improve reading, writing and math skills with our fabulous Tutor, Terryl. Her students love her - and we know you will too! Need help studying for a license, certification or citizenship exam? Want to master English as a second language? She can help!
Free, but you must pre-register. Please register here to receive a call from us, or call 345-3217 directly for an appointment.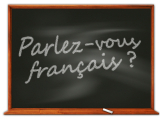 French for Fun!
with Jerryanne LaPerriere

Apr 24, 2018 at 6 pm

, runs for 6 weeks
The goal for this 6-week introductory French course is to begin to learn French for fun and/or travel. Voulez-vous parler français? Join us in a small, informal group setting as Ms. LaPerriére, a Languages Teacher at Saint Dom's, teaches you introductory French words, terms and basic conversational skills through games, class work, text, and online resources! Tuesdays, April 24th through May 29th, 6-7:30pm.